For engaging users and establishing credibility, websites are required. As it displays an online picture of the company consumers easily reach out to the companies for their products and services. With a unique website design, you can draw a huge crowd, which ultimately turns into more leads.
The company providing result-oriented and customer-centric services can efficiently meet the growing business demands of individuals. Desisle serves as an island of all the unique and quality design needs that help empower businesses in this competitive world.
This article provides complete insight into this company and how it meets the growing demands of businesses.
Big Picture of Desisle
Founded in 2020, Desisle is a well-recognized agency that offers various services to meet the growing digital demands of entrepreneurs. It strives hard to promote and raise the brand of the client's company by providing a wide range and high-quality UI & UX (user interface and user experience) development services.
Further, the knowledgeable and skilled team members create impeccable and highly-functional strategies that fully align with the business goals and objectives of the clients.
Interestingly! The clients get all design and development solutions under one roof by employing the robust and promising services of Desisle. The design approach of the innovative and dedicated team members helps entrepreneurs to outspread their audience engagement and ultimately gain growth and development of the business by increasing revenue.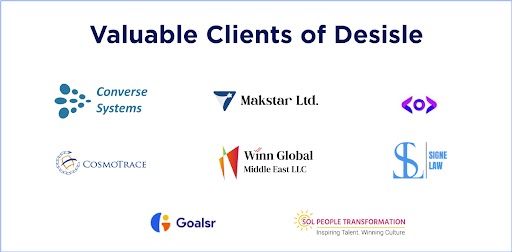 Seamless Experience with end-to-end services
Designing
With their expertise, innovative designers provide professional and pleasing design experiences for the client's applications. They provide bespoke UI & UX design, product design, logo design, business presentations, video creatives, infographics, 2D/3D explainer videos, illustrations, and whiteboard animation designing services that help in improving the brand growth of clients' businesses.
App Development
The clients can effortlessly enhance their user engagement in their mobile apps by using iOS and Android, Hybrid, app integration, PhoneGap, and React Native solutions of the company.
Digital Marketing
The marketing specialists enable clients to turn their visitors into customers with the help of search engine optimization (SEO), social media marketing (SMM), pay-per-click advertising (PPC), content writing, content marketing services that eventually result into maximizing the ROI (Return on Investment) of the client's business.
E-commerce
The dedicated team designs a user-friendly e-commerce platform by offering WordPress- WooCommerce, OpenCart, Shopify, Magento, and Wix services. All these solutions enable clients to showcase their products competently.
HubSpot Services
With full-featured HubSpot services that include HubSpot Onboarding, HubSpot Consulting, Inbound Marketing services, HubSpot Campaign Management, HubSpot Website Design and Development, HubSpot Sales Enablement, HubSpot Reporting and Analytics along with HubSpot support and maintenance that helps in increasing the revenue of the client's company.
Staffing and Support
The experts provide website maintenance and support services, outsourcing services to optimize sales, sales services to accelerate the growth of the businesses, customer support for their satisfaction, and ChatGPT, which helps generate content as per the client's requirements.
Henceforth, the reviewers and researchers of GoodFirms have acknowledged Desisle as one of the top web designing companies in India for its exclusive and innovative services.
The cited client review below expresses the high performance of Desisle and the way it satisfies their requirements, which eventually helps maintain long-term relationships.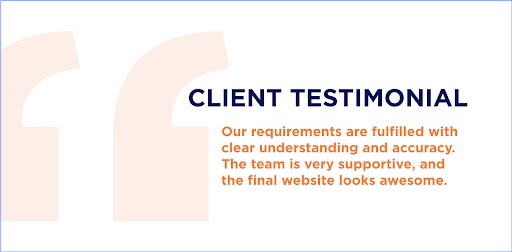 Why does GoodFirms consider Desisle one of India's leading web designing service providers?
The company delivers comprehensive solutions in the domains of UI/UX design, web and mobile development, digital marketing, and e-commerce services, to mention a few. The innovative and skilled team members hold expertise in employing advanced technology to provide quality business solutions that help in meeting the growing requirements of the clients.
With a customized approach and agile methodology, the team creatively creates user-centric design keeping in mind the goals of the enterprises and candidates. Moreover, the team forms seamless communication with the clients throughout the project, keeping them updated about their ongoing projects.
Furthermore, the professionals enable clients to maximize their ROI (Return on Investment) with the help of result-driven strategies that offer scalable and reliable business solutions.
Conclusive Thought
Design plays a significant role in the success of online businesses as it effortlessly attracts and engages the target audience. By employing cutting technologies, Desisle assures premium designing services to its clients across all industry verticals globally.
About GoodFirms and its Methodology
GoodFirms is the revolutionary research and review platform that enables IT businesses to establish their esteemed position in information technology. With the help of a thoroughly researched fact list of solutions and services, it strongly connects service providers with service seekers. Its methodology helps B2B tech companies to search for and promote their products and services globally. Individuals can efficiently make the best business decisions by reviewing the customer-rated list of software and service providers, including reliable reviews and ratings from actual customers.